Soffits, Fascia & Eavestroughing
Soffit/Fascia
The soffit and Fascia on a building serves two purposes. They provide protection for the roof's exposed wood elements, preventing decay and rot, and they compliment the rest of the exterior, giving a quality look to the house.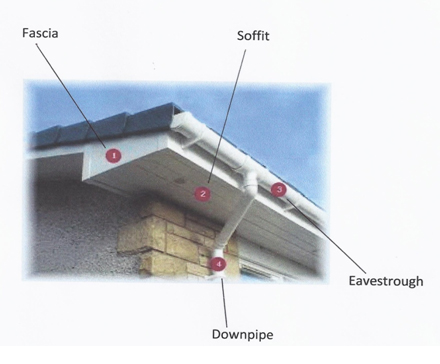 Eavestrough
Eavestrough comes in 5″ for residential use, and 6″ for commercial use. 6″ is heavier gauge, stronger and capable of carrying more water and although it is typically used in commercial applications, it can be used for residential as well. Heritage Roofing Ltd. specializes in installing high quality aluminum continuous eavestrough in a variety of colors designed to match and compliment other exterior elements of your home.
Regardless of whether you are replacing or adding new soffit, fascia or eavestrough, Heritage Roofing Ltd. can satisfy you with top quality materials and workmanship so give us a call for a free quote.